JJ's Dance Studio is excited to be partnering with Thunder Sports to provide an amazing experience for all campers.
We will be offering camp this Winter break to ages 5-12. It will be starting on December 26 to the 30th! With a break for the New Year and additional Camp days from January 2 to the 4th! Camp will run from 9:00 am to 3:00 pm.
We will offer parents the option to do an early drop at 8:00 am for an additional $10.00/day. We will ALSO be offering AFTERCARE as well, from 3:00 pm-6:00 pm for an extra $20.00/day. Scroll DOWN for additional details below on how our camp will run!!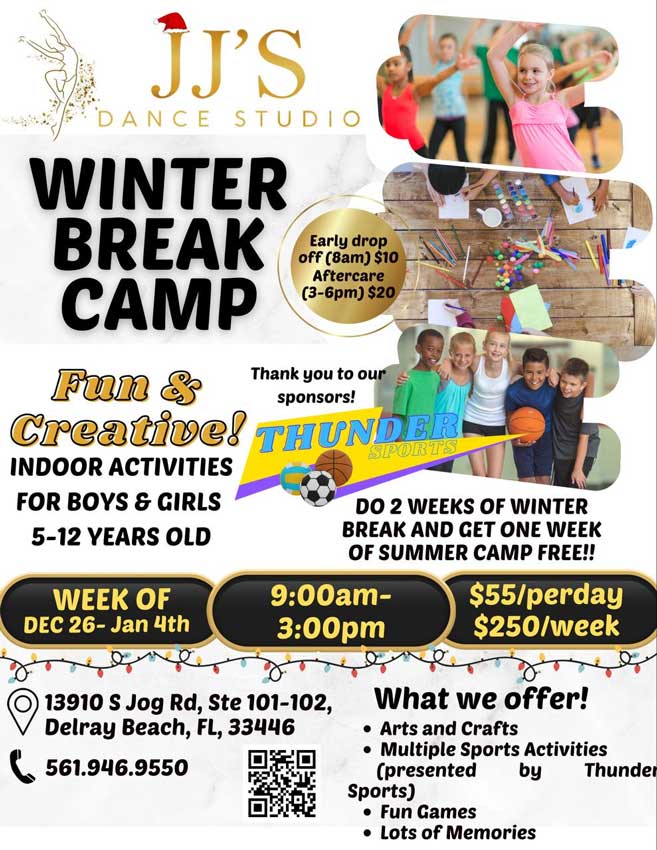 What JJ's Dance Studio Offers
Winter Break Camp Delray Beach
This is a day by day schedule of how your child's day will look like!
9:00am: Drop off
9:30 – 10:15am: Special Activities
10:15  – 10:30am: Snack/Water time
10:30 – 11:45am Sports
11:45am – 12:30pm: Lunch time
12:30 – 2:00pm: Dance
2:00 – 3:00pm Clean up & Snack time
3:00-6:00pm: Aftercare